GWAR: Orgasmageddon #2
Writer: Matt Miner, Matt Maguire
Art: Jonathan Brandon Sawyer
Dynamite Entertainment
2017
Thrown into the past by Mr. Perfect, our favorite "Scumdogs of the Universe" GWAR are fighting their way through time like a horde of insane drunken children, killing and defiling all in their path. Find out what REALLY happened in our human history and get the full story of GWAR's involvement in World War II, Aztec human sacrifices, and the sinking of the Titanic, plus meet the BRAND-NEW MONSTER with a name so foul we can't print it here and an appearance so obscene we couldn't draw it on the cover! Featuring story by Matt Miner, GWAR's Matt Maguire, and art by Jonathan Brandon Sawyer and members of GWAR, this book is a gut punch of social conscience wrapped in a blood-soaked corpse and sprinkled with comedy dynamite.
GWAR's second issue is here, and as a longtime fan, I'm still loving it. The group continues to stagger through time, creating a mess of things wherever they go. While it may not say much or mean much, it's still fun, and exactly what I would expect from the band.
Not much has changed from the premiere – the art still does the job, the writing is fine, and the story is little more than an excuse to set up the jokes – but that's what I enjoy the most. While I will admit that the novelty of it all wore a little thin this time around, it's still good just for the laughs.
Like I've said before, reviews of this book probably aren't going to change many minds. Some people will see GWAR and decide it's not for them, and others will know they're going to like it right off. If you're in that first group, I'd really like to ask you to think again and give this a closer look. It's bright, gross, and silly – what's not to like?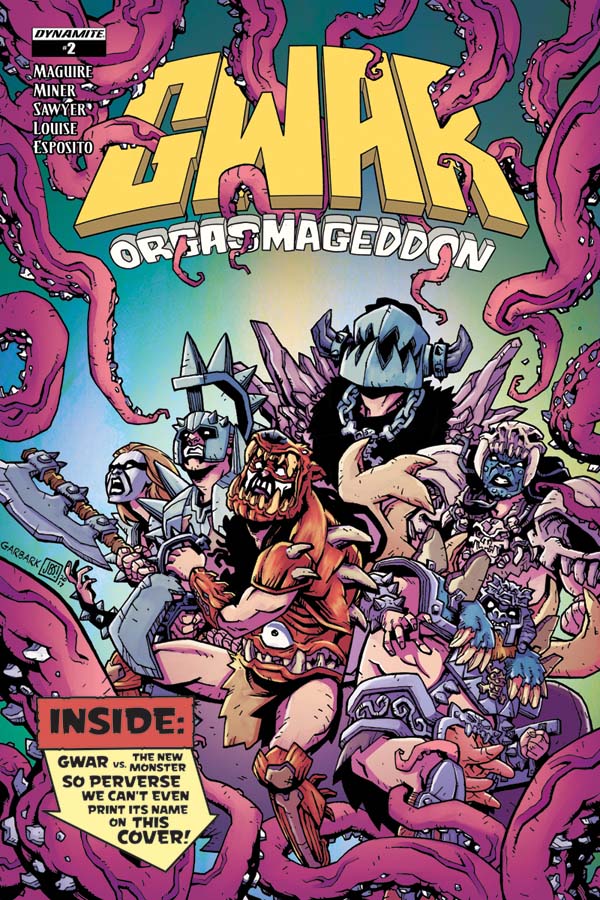 Related Posts:
Comments: